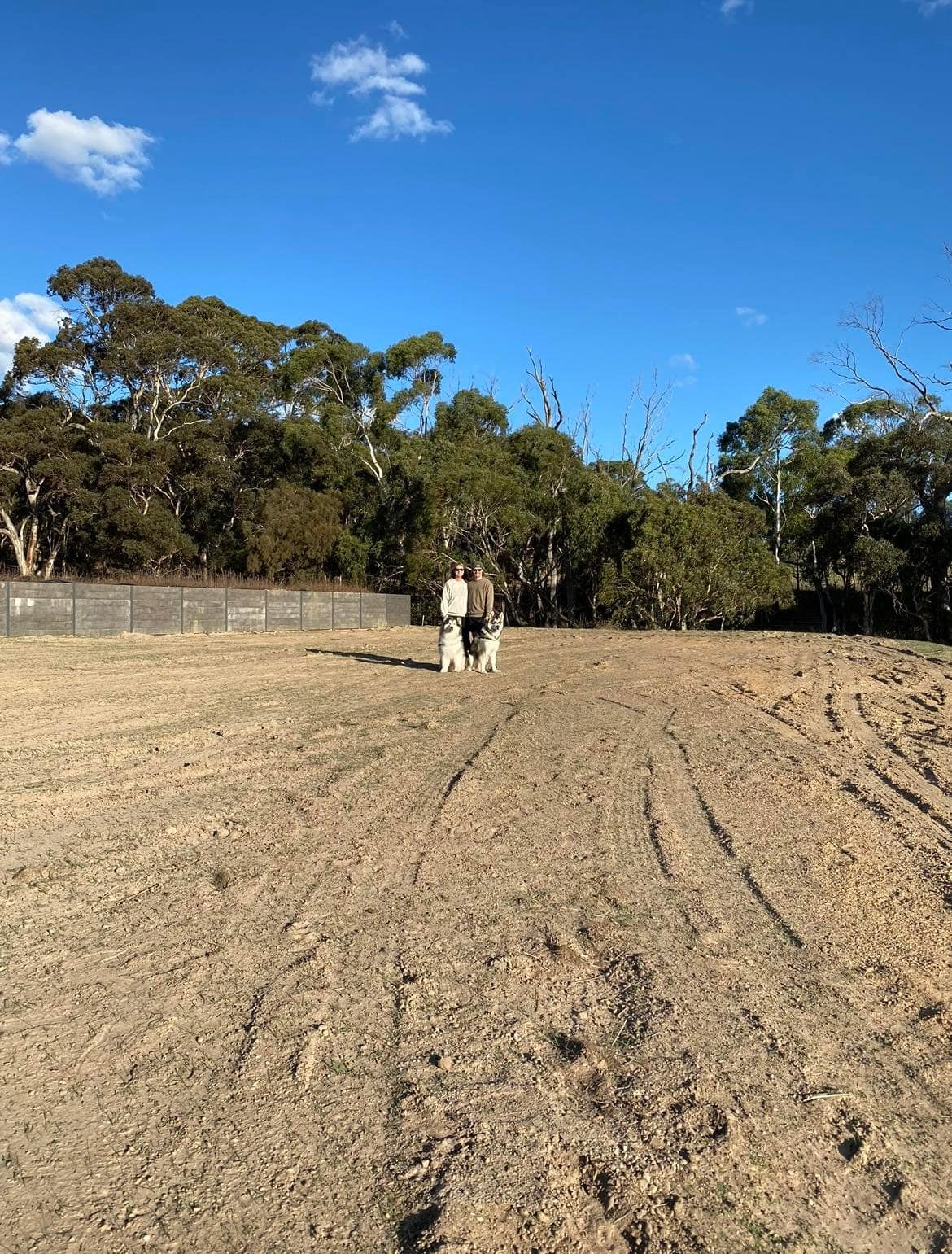 Welcome to Clover Park

We were thrilled to chat with Melanie who together with her partner Jayden is building her second home at Clover Park…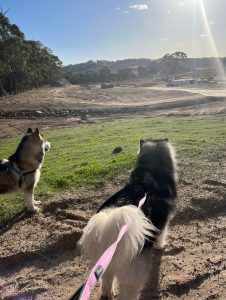 CP: Hi Mel! Thanks for chatting with us. How did you decide that Clover Park was where you wanted to create a home for yourself?
Melanie: We started looking for a block in July 2020. It really all came about after I was stuck home and unable to work for 8 weeks in the covid lockdown. I kept myself as busy as possible but there's only so much to do around the house with a small backyard and we both agreed it was time to start looking for our forever house.
At that point Clover Park had some great size blocks but not the "perfect" one, yet! We looked at all the other estates around and large block sizes seemed to be around 700-900m2. One estate did offer a few larger blocks but the estate just didn't have the right feel to it for us.
A friend bought and built in Clover Park around the same time and she was so happy with her block and made some lovely friends so we signed up to the releases and waited!
When our perfect block was released we couldn't go on the day to purchase as life had unfortunately thrown us a curveball with one of our fur babies and so when I did head into the land sales I was devastated to hear the block was on hold! However Brad was fantastic and said to check back in on day 5 and so I did and it had literally just come off of hold and we took it, this was in September 2021!
Clover Park has a very different feel to the other developments and the thing that really sets it apart is it will never be as big as the other main estates and that's such a positive thing! Clover Park still feels like you're in the country and the roads are not super narrow, a lovely park and walking trail going through now too with more open spaces to come!
CP: Who will you be moving to Clover Park with (partner, pets?)
M: My fiancé Jayden, myself and our 2 malamutes Pandora and Paddington will be moving in.
CP: Tell us about your backyard and your views…
M: We were lucky enough to secure one of the blocks right at the back of Clover Park which backs onto farmland. We have one neighbour on the left and to the right is a reserve with a nice gradual downward slope so we feel absolutely special to only have one neighbour and the views looking out over the hills! Our house design has incorporated these points with the main living area, kitchen, alfresco and second living area all facing either the back yard or the right side of the block. It will feel like we have our own acreage! There are horses in the paddock behind us and we have also seen kangaroos most times we have been out to visit the block.
CP: Have you met any of your neighbours yet?
M: We know quite a few people who have recently purchased blocks! Our friends who currently live four houses down the road from us in Bluestone will be four houses down the road from us in Clover Park! Our building consultant is also building in the same release as us and I also know of three clients of mine who will be building also, with the closest across the road! I have also spoken to a few people on Instagram who are either in pre-construction or currently building and it's been awesome to have a chat! There is also a Facebook group for the residents of Clover Park and from all the posts I've seen everyone is so lovely and will go out of their way to help others out. It so nice to see the type of community we will be moving into.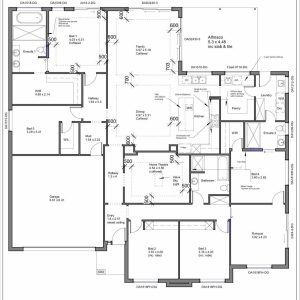 CP: Have you chosen your home design? If so how did you select your builder, and the right design for you?
M: Yes we have locked in our build! The trickiest bit with these back blocks is the building envelope. You have 23meters of depth to work with, which basically no standard plan actually works with so we needed to go fully custom.
We made a list of what inclusions were our must haves and also the orientation of the block and how best to utilise our views. We literally cut out rooms from paper floor plans and played with them on paper to get our base plan sorted and from there I learnt how to use a floorplan program to draw it up! From our base design it evolved to three main designs, each one better from the last one.
We approached around 18 builders with varying types of communication. Being a custom plan that comes with a higher price tag from most but surprisingly Statesman offer custom plans without the custom price tag!
We had the best experience with Douglas our consultant from Statesman, his knowledge, skill and passion for house design has taken our house to the next level! Having a consultant who enjoys custom plans is key to a custom plan.
CP: How did having such a large allotment influence your choice of home design? How have you sited the home on the lot?
M: Having such a large block and for us what will be our for a very long time house we have designed a house that is very large and has more rooms than we need, for now, but for the future will provide us with everything that we could possibly need! It's a five Bedroom, three Living and three bathroom plan with an alfresco. For us also a big must have was for our master bed to be at the back of the house to have views out to the farmland. We have sited the house on the block to allow side access to the backyard and with space also on the side in the future for a shed if that was a need. Our priority with the backyard was to keep it as open as possible.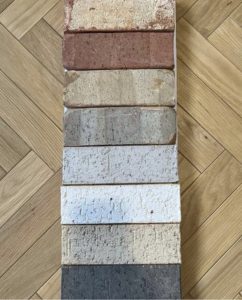 CP: What is it about the tranquillity and privacy of this specific lot that attracted you?
M: By only having one neighbour we feel this block will be nice and quiet with full privacy as there is a retaining wall on the neighbouring side and once the fence goes up and we landscape and plant some lovely screening plants we wont even know someone is next door! The back of the block does have a 1.5 meter drop over 3meters which sounds like a lot but it actually creates the most beautiful view as we will fence at the natural level with a country style open fence so it will almost look like our back yard doesn't end and continues into the farmland beyond. If we win the lottery we think an infinity pool would fit in perfect!!
We are currently on a 400m2 block so going to a 1100m2 sounds like bliss. Our current block fits in the new back yard basically! We are lucky at the moment to not have a rear neighbour but having both side neighbours 1m from the fence currently at times can be noisy and we don't find ourselves spending much time outside.
Previously to our current house I grew up on a 1200m2 block in the centre of Mount Barker. It had the best backyard, as a kid I lived outside and had lots of space to run around and make noise and not disturb the neighbours! So I am very much looking forward to having a similar space again and for the dogs to have all the zoomie space!
CP: Do either of you work from home? If so have you included a home office etc in the home?
M: Yes, I work from home as a beauty therapist and have had a home based business since 2015. My work room is in the fourth bedroom of the house and the most exciting bit is I will have an ensuite for my clients and for also spray tanning in, yay! The plan also has a separate side entrance for this room so it will be nice to have the space feel really separate from the house. This layout also could be used in the future as a second living area with the separate entrance and ensuite.
We have also added a fifth bedroom, originally it was going to be a double sided study but we changed up the plan a bit which made the room larger so it will be classed as a bedroom, however its use will be for Jayden to have an area for him to work from if needed.
CP: Has living through the pandemic influenced your home design at all? Did your pets influence any features of your home?
M: The pandemic definitely made us want more space! To not feel boxed in and to have a lovely backyard that we can fully enjoy.
Our dogs have always been one of the big reasons to get a bigger block and I hope they will appreciate their new space to zoom around in. But I bet they'll spend most of their time inside sleeping!!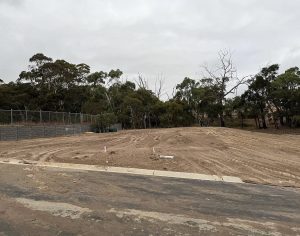 CP: What would your advice be to anyone searching for an allotment to build their dream home?
M: If you are wanting to build your dream home or forever home it's really important to know what size house you want and then what size block you need to create that vision! For some a dream home may be a really big house but a simple easy to maintain outdoor area or others want as big yard as possible and not as big a house. It's so individual so very important to know what your needs are. I personally feel finding the block first is key as the house design then really depends on the block size, particularly the width.
CP: Any other tips for homebuyers that you've learned so far along the way?
M: This is my second build so I learnt a lot from the first. I had a good experience with the first build but was limited in terms of size due to the block. Some people want to build their dream home first go and sometimes that's not possible, there's soooo many things to consider with a floor plan, colours and selections, facades, landscaping and there will be always something you look at and think why didn't I do that! I love my current house but am so grateful we get to build again and design something more to what we feel is our dream home.
I feel it's very important to always think to the future and what your house needs will be and also future value, resale or rentability. Keep room sizes as generous as possible as no one likes tiny rooms! Add extra power points, they're around $70 and you can never have to many. Storage is also really important and there can be clever ways to incorporate and build it in.
But mostly enjoy the built process as it can certainty be a roller-coaster! Costings and timeframes are so unpredictable at the moment so I feel it's really important to have realistic expectations in these areas!
Follow Melanie and Jayden's build on Instagram – @_adora_design
To be the first to hear about new land releases at Clover Park please register your details here.